Personal Training
We understand that your workday may not end at 5pm. Fitness pushes outside of the gym walls. Health does not come in a bottle. Therefore, our training caters to your lifestyle.
Group Fitness
You get attention in every class. Something that you will not receive at a big box gym. Ever.
Life Coaching
We are not only passionate about fitness but about life, too. Our certified Life Coach works with you one-on-one to power through the grit of life and live a more fulfilled life.

Specialty Training
Some of us need some extra love with our training. That's ok. We have trainers with special certifications that can and will help you.
In 2010, I quit my cushy corporate job and started Buffalo MultiFit with just one client, and I was scared sh**less!
Since then we've built a reputation for being Buffalo's premier personal training and fitness gym. Our clients range from local executives, business owners, retirees, prenatal, teachers, pro and amateur athletes, special-attention clients and people who just want to make a positive change in their life. We specialize in personal, one-on-one training that is uninterrupted and all about you, individualizing programs that are built around your needs. You get to use clean, sweat-free equipment, all of which is functional and modern. If you hear us talking, you will notice one repeated phrase: We don't cater to the masses.
In addition to one-on-one training we also offer flexible group classes 7 days a week with a variety of times that can fit into your schedule. If you're a cardio enthusiast, we have treadmills, bikes, ellipticals and rowing machines (for all you House of Cards fans). No lines, no wait. If you're looking for muscle building you'll find a large assortment of weights and equipment that will meet your needs.
BMF is conveniently located 15 minutes from downtown and offers flexible hours. You can lock into your PT one-on-one training time or chose a group class with easy check-in with our online scheduler.
By the way, that first client…she is still with us.
"…In a few short months, I have reached my goal and feel great. I highly recommend Buffalo Multifit…"
"After a debilitating stroke and when therapy ended, Buffalo MultiFit was a great place to continue my rehabilitation."
"Carrie focused on key areas of my body that I would need to rely on not only for labor and delivery, but for the rapid changes my body was enduring…"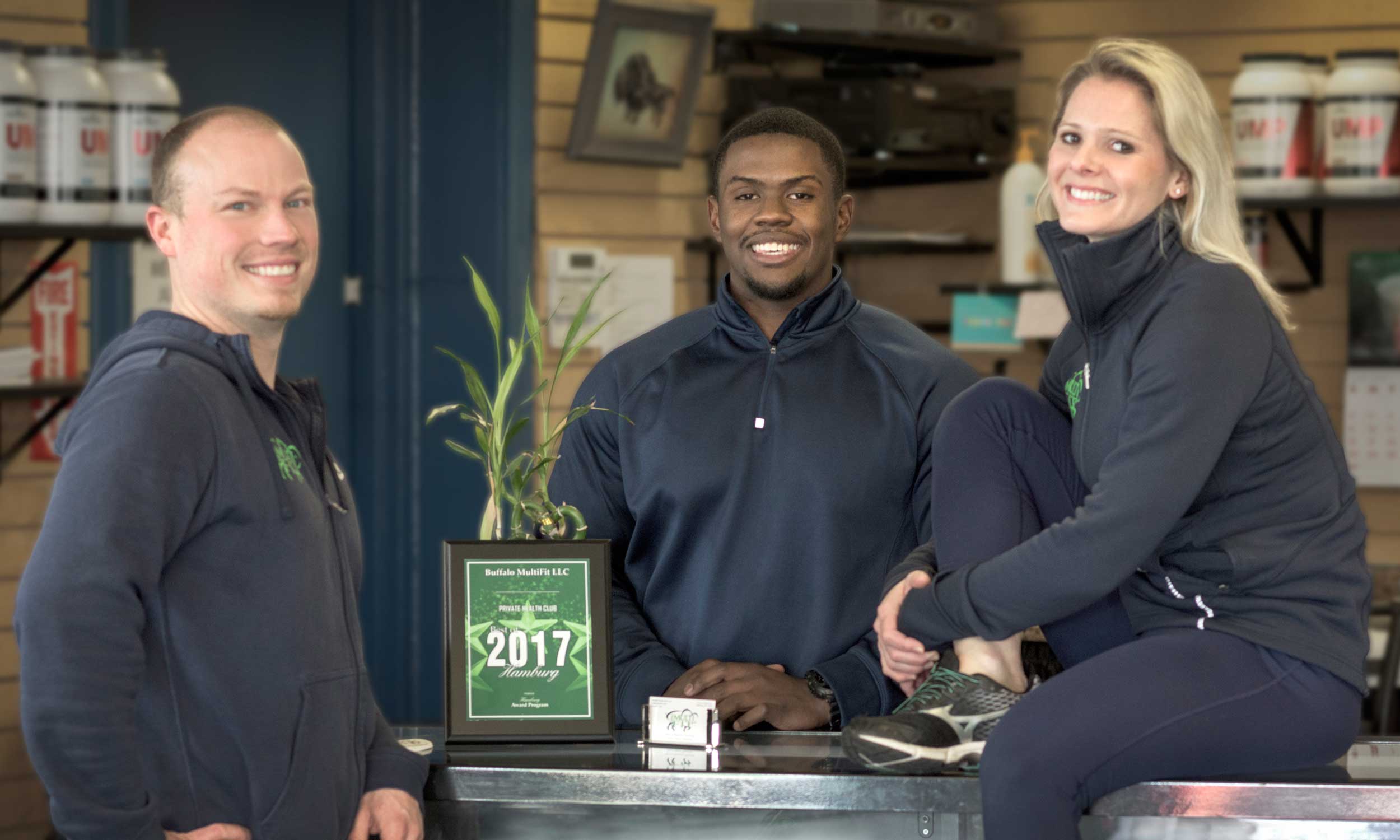 Our Trainers
Our trainers are certified in multiple avenues in order to help more people. No one is the same. The more educated we are, the better results you will achieve. The more fun you have, the more we do as well. Have fun while working your butt off. Life is too short not to.
Ranked 4th out of 74 in "2017 Best of Gyms in Buffalo" by Expertise.com
Awarded "Best of Hamburg Private Gym" for 5 straight years
Free Assessment.
No Sales Pitch.
BMF is proud to be a participating vendor in Independent Health's Health ExtrasSM program
4110 St. Francis Drive, Hamburg, New York 14075
716.627.7057
info@buffalomultifit.com
• • •
Proud Member of the Hamburg Chamber of Commerce
5am-8pm M-F
5:30am-12pm Sat
Sunday Morning Group Fitness